Our Mission
AGC Stone Works has been in business since 1988 and has been growing and perfecting the art of countertop manufacturing since inception. In the beginning, we started to manufacture custom countertops just like the rest of the competition, using simple and common methods of measuring, cutting and fabricating with diamond table saws for cutting stone and wooden templates to measure them. Over time, we realized that we needed a more precise solution for both of these tasks. We have successfully installed the most complicated jobs any fabricator would cringe upon. We invite you to experience the difference in quality countertop manufacturing by using us for your next project.
Step 1
Step 1
The measuring process is the most important part of the entire job and therefore AGC Stone invested in the most advanced digital templating machine called the "proliner". With this method, Anthony uses this computer digitizer on every job and measures the countertop area with a precision of +- .003". That means the countertop dimensions are perfect fitting every time.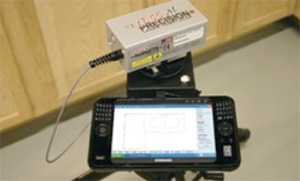 Step 2
Step 2
Once these dimensions are brought back to our shop, they are then completed using an Autocad program. This program allows us to insert manufacturer supplied digital sink templates to the countertops being produced. Upon completion of drawings, we then superimpose the drawings over a photo of the granite slab to be used. This allows us to be able to show our clients exactly how the countertop will look prior to cutting; it makes seam matching and color distribution a science and allows our clients to be totally involved in the approval process prior to cutting the countertops.
Step 3
Step 3
Our manual cutting process has been replaced with digital waterjet technology. The waterjet cutting is achieved with 60,000 lbs. of water pressure and garnet combination that cuts granite like butter. The result is a stress-free cutting operation that duplicates the same accuracy in dimensioning as the digital measuring process.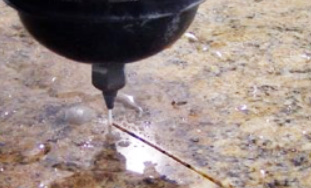 This is the second time I have had the pleasure of doing business with your organization. In both cases I have found your staff to be very helpful, dedicated and efficient. The final results were above expectations! You are to be commented on such a quality organization. I will be back again when I start my next project.
I'd just like to tell you how pleased my wife and I are with the job you did in fabricating and installing our new countertops. The help we received during the planning stage right thorough the installation was fantastic and all the people involved were courteous and professional. The installation crew was very neat, thorough and informative, which was important as we never had this type of countertop before. We would gladly recommend your services to anyone and have already told several friends of our truly satisfying experience.
Sorry for the delay – typically busy. Anyway thanks for the great job. Comment from one of our carpenters "The nicest granite I have ever seen."